As we celebrate ONU's sesquicentennial, we are checking in with retired professors and staff to see how they are living the mantra of lifelong learning. Some are going in surprisingly creative and interesting directions. This is the third story in the series.
Visit the gift shop located inside The Inn at Ohio Northern University and you'll discover beautifully-crafted wood clocks, cutting boards and keepsake boxes worthy of becoming family heirlooms. They are the handiwork of former electrical engineering professor turned master craftsman Les Thede. After retiring from ONU in 2007, he traded the hustle and bustle of academia for the solitude of the woodshop, starting a business called EverLasting Furniture. "I wanted to do something different," he explains, "and the woodshop became my sanctuary."
Thede taught at ONU for 23 years and served as electrical engineering department chair for three of those years. He mentored hundreds of engineering students who went on to achieve impressive careers in the industry.
Growing up on a farm in Iowa, he witnessed the practical application of engineering on a daily basis. Midwestern practicality came to define his approach to teaching and learning. "I enjoyed the chance to teach kids skills they would be able to use," he says. "I especially liked that 'light bulb' moment when a concept would click with a student."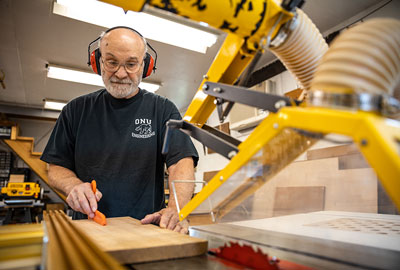 Specializing in analog electronics and digital signal processing, he was known for his extensive class notes that his students found helpful as practical, how-to guides. He turned those notes into two published textbooks that are still referenced today. During his teaching career, Thede occasionally dabbled in woodworking. In preparing for retirement, he decided it would be the ideal hobby to pursue more intentionally. Keeping busy, he says, is key to a happy retirement. "When I announced my retirement, several colleagues told me: 'I don't know what I would do in retirement,'" he recalls. "And I told them: 'Well, you better start thinking about it!'"
Thede set up a woodworking shop in his backyard and he could feel the stress melting away while he worked with his tools and machines. "It went out of my body down through my feet," he said. During his wife's battle with cancer and her death in 2018, the shop became a haven of peace for him amid the grief. While he started out making larger furniture pieces and selling at local craft fairs, he soon settled on a different business model. He created a line of smaller products, including clocks, clipboards, cutting boards and keepsake boxes, that could be sold on-line and easily shipped. His website links to his Etsy shop where all transactions are handled.
Using only hardwoods—cherry, walnut, oak and maple—he pours creativity and craftsmanship into each design. His company's name, EverLasting Furniture, reflects his commitment to building quality products that will be treasured for years to come. Customers from across the country leave glowing reviews on his Etsy shop, with comments like "stunning clock," "absolutely beautiful craftsmanship," and "looks amazing!" A couple of his more unusual products include hat racks and picture displays that he recently crafted from broken and scarred wooden baseball bats. He also loves to build cajons, which are wooden box drums with a snare that you sit on to play. He's sold hundreds of these to schools, churches and individuals. Why cajons? Because the mild-mannered, practical engineer has an unexpected side to his personality—rock 'n' roll drummer.
Thede's former students may be surprised to learn that Thede was in a 1960s-era rock band called the XL's. He and some high school buddies formed the group and they stayed together through college. While the group started out playing tame big-band style music, they transitioned to '60s rock 'n' roll when The Beatles, with their long hair and unique sound, took the world by storm. The XL's became a sensation in Iowa and had the chance to be the opening act for some big-name music groups of the era when they toured in the state, including the The Lovin' Spoonful, The Mamas & the Papas, Paul Revere & The Raiders and Herman's Hermits. The group also won a Vox music competition and traveled to Hollywood for an appearance in the 1968 movie "A Time to Sing" starring Hank Williams Jr. and Shelley Fabares.
After he retired, Thede and his bandmates staged an XL's reunion and performed together at various Iowa venues in the summers. In 2009, the XL's received the honor of being inducted in the Iowa Rock 'n Roll Hall of Fame.
Thede has also played drums for a local band in Northwest Ohio called Kwik Fire. "We played the animal clubs," he said with a laugh. "The Elks, The Moose, The Eagles." While his playing career ended in 2016, Thede isn't opposed to picking up his drum sticks again if the need arises.
Meanwhile, he's not skipping a beat with his woodworking business. All those years he spent developing technical manuals for his ONU students has prompted him to put together detailed design plans for his clocks and other specialty products. "Maybe someday when I am long gone a grandchild or great-grandchild will find my notes and decide to build these same pieces," he says. "That would make me really happy in heaven."